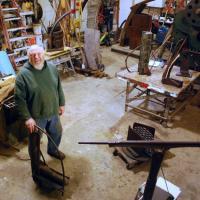 Weight, stability and permanence are important to me; this must be why industrial components, architectural forms and landscapes have always influenced my work.  Combining steel and concrete has become a life long approach to building form though I often bring into the mix plastics, wood, and stone to expand on this foundational dialogue.  I intentionally leverage the implied utility that industrial materials posess while avoiding the literal.  My new sculpture continues the visual themes I have been developing for over 30 years.  My work begins with the considerations that all construction requires, but my goal is to arrive beyond formalistic concerns where the common materials I use eclipse their origins.  The unique power of the three-dimensional object is always paramount.
Bio
Mike Baur is best known for his architectural scale concrete and steel public sculptures, but is also prolific in smaller scale works, exploiting any and all available materials he can work with his hands.

Mike Baur spent his childhood in various small southern Missouri towns as his father, a Baptist Minister, was called to different congregations. He first knew he would be an artist when at the age of six he saw Jackson Pollack's work in a barbershop copy of Time Magazine and visited the Thomas Hart Benton murals in the Missouri Capitol Building. At age sixteen, he dropped out of high school and worked in a sawmill and other timber related jobs before enrolling as an art student in Arkansas State University in 1969

After graduating with a BFA from Arkansas State University in 1973, he attended the University of Illinois Graduate School in Sculpture (MFA'75). While in his first year at Urbana Mike switched from fiberglass to concrete after losing several large pieces in a tornado. In 1974, he won an international competition to build a 200-ton concrete sculpture in Barcelona, Spain. 

In 1976 Mike set up his first Chicago studio in a Printer's Row loft on South Dearborn and from here constructed the large concrete and steel sculpture for his first one-man show at Zriny-Hayes Gallery on North Halsted Street in 1977. In 1978, he acquired an 18,000 square foot building west of Sears Tower where he continued to produce his work until he relocated to West Chicago in 1987 and built his current studio on five acres.

Baur's sculpture can be found in numerous locations in Illinois, in the United States and in Spain. His monumental pieces are sited in Taragona, Spain, in The Illinois Department of Transportation Building in Springfield, on the campus of Elgin Community College, in Northpoint Marina in Winthrop Harbor, the Nathan Manilow Sculpture Park among others.

Mike Baur was represented by Sonia Zaks Gallery from 1981-2005, and has exhibited in numerous museums, outdoor large-scale sculpture venues and group shows in the United States and in Europe. He has presented slide lectures in schools throughout the Midwest including at the Art Institute of Chicago, the University of Illinois-Urbana, and Arkansas State University among many others. He has also mentored students from Northern Illinois University and the College of DuPage.